Home

Our Products

Engineering Rolls
Engineering Rolls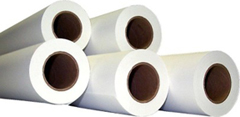 See our Complete Engineering Roll Product Listing
Alliance Engineering Rolls and Sheets go through a rigorous inspection and approval process which meets or exceeds OEM specifications for optimum moisture content. Sheets are lint free and protectively sealed in a moisture protective wrap for long term storage. Available in case or bulk-bin quantities. All rolls are produced on a 3" recycled, industrial strength core. The use of high quality paper produces crisp, vivid images that are easily readable and longer lasting. Our top quality engineering rolls and sheets are straight and even for a quality print the first time.
Xerographic Film
Blue Line/Diazo
Digital Proofing Media
Double Matte
Opaque Bond
Translucent Bond
Bond
Coated Bond
Double Sided Bond
Mylar
Colored/Bright White Bond
Vellum/Heavyweight/LED Heavyweight
Stay informed on our latest news!