Home

Our Products

Laser Cut Sheets
Laser Cut Sheets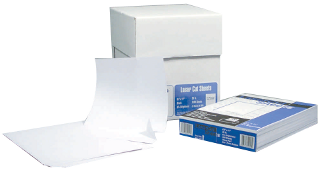 Complete Laser Cut Product Listing
Alliance Processed Laser Cut Sheets are suitable for high speed copiers, laser printers, inket printers, offset processes and plain paper fax machines. All perforations are clean cut, leaving a "perfect edge" and allow sheets to run smoothly without any paper jams. File hole sheets are punched for smooth running and guaranteed top laser performance. Each standard file hole punch measured 5/16" in diameter. Each ream is sealed moisture and static proof, retail ready with UPC bar codes. Quality and satisfaction are guaranteed.
Create customized forms for your company - Ideal for invoices, statements and medical charts.
Packed 5 reams per carton (2500 sheets)
Alliance Laser Cut Sheets are made from laser compatible HIGH BRIGHT 20# and 24# register bond paper (92 brightness)
Cut clean microperfs and individually hole punched for guaranteed laser performance.
Perforated
Ideal for invoices, statements or sheets which require a user remittance. We offer a complete selection of horizontal and vertical perfed sheets. Perforations are cut clean, leaving a perfect edge and allowing sheets to run smoothly, without jamming in even the most sensitive printers or copiers.
Punched
TST/Impreso, Inc. offers completed punching capabilities to meet exact needs for medical forms, delivery forms and filing requirements. Each sheet is individually punched for smooth running laser performance.
Stay informed on our latest news!